Asbestos, PFAS and other toxic waste from the West Gate Tunnel Project is putting our community at risk.
It's time for John Holland-CPB to come clean and tell us just how dangerous these toxic soils are.




Littered With Asbestos
Work on the West Gate Tunnel is taking place in some of Melbourne's most industrialised areas.
While there are many, many contaminants to be found in the area's soils, it's hard to think of one more dangerous than asbestos.
Anyone who knows the history of the area should know that the soil will contain asbestos.
But every time workers dig up asbestos, the joint venture behind this project — John Holland-CPB — describe it as an "unexpected find".
In project documents obtained by the CFMEU, these "unexpected finds" keep happening again and again.
What a surprise!
So what is the project doing about it?
When union officials visited the project's New St site in Kingsville recently, we found a pile of dirt containing asbestos running alongside a public road.
It's a road that children use everyday to get to a local sporting field.
This contempt of community and worker safety is typical of John Holland-CPB's approach to dealing with toxic waste.
All we are asking is that asbestos found by the project is dealt with in a manner that is consistent and fully compliant with the Asbestos Regulations of 2017.
Fiskville comes to Footscray
The dangers of PFAS were not well known in 1991, when an industrial inferno broke out at Coode Island, next to Footscray. While PFAS firefighting foams worked to kill off the blaze, there is growing concern about its impact on the community — 28 years on.
Parts of Coode Island and its surrounds are being dug up to build the new West Gate Tunnel, which will link the western suburbs and the CBD. That soil is usually far enough away from the community to be out of harm's way. Not anymore.
For months, a huge stockpile of PFAS-infested soil was left sitting next to Footscray Rd. Cyclists rode past it every day, breathing in toxins which may have also affected passing traffic, local residents and workers.
Once the CFMEU started asking the questions, the pile was moved. We have reason to believe that dirt was simply moved to other parts of the project.
The project has many other piles of contaminated soil as well, and the workers who are handling this toxic dirt are not being given adequate protections.
We believe workers are not being allowed to use white safety suits when they handle this soil because the joint venture behind the project, John Holland-CPB, doesn't want to upset the public.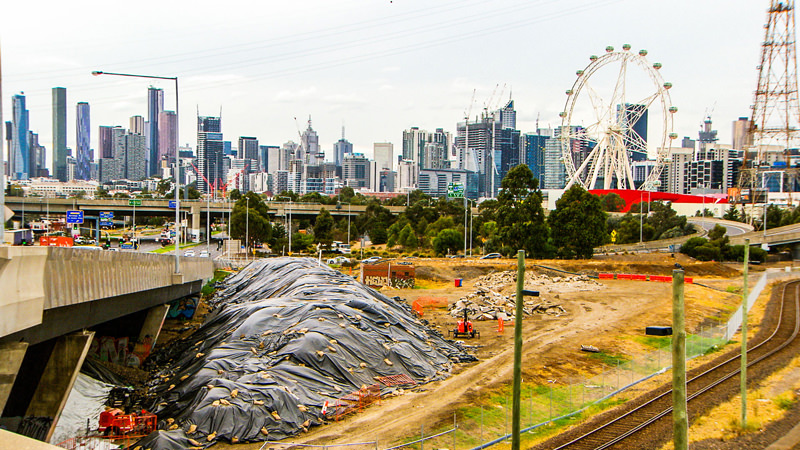 What is PFAS?
We call PFAS 'Pretty F**ing Awful Stuff'.
It's been blamed for birth defects. It's been blamed for cancer clusters. And once it's been released, it's nearly impossible to get rid of.
The PFAS firefighting foam is a "forever chemical" with a toxic reputation. It's been at the centre of health scares around the world — with many of them happening here in Australia.
In NSW's Hunter Valley, a cancer cluster involving dozens of residents along Cabbage Tree Road has been linked to PFAS used at the nearby RAAF base.
Outside Ballarat, the CFA's Fiskville training centre is so badly infested with PFAS that it is now mothballed, and was the subject of a parliamentary inquiry.
That's how dangerous this stuff is, and it's why the CFMEU is concerned about piles of PFAS-infested soils currently being dug up in Melbourne's west.
Hotspots everywhere
Documents obtained by the CFMEU reveal the area's soil is riddled with PFAS hotspots. But John Holland-CPB has shown little interest in finding out the true extent of the problem.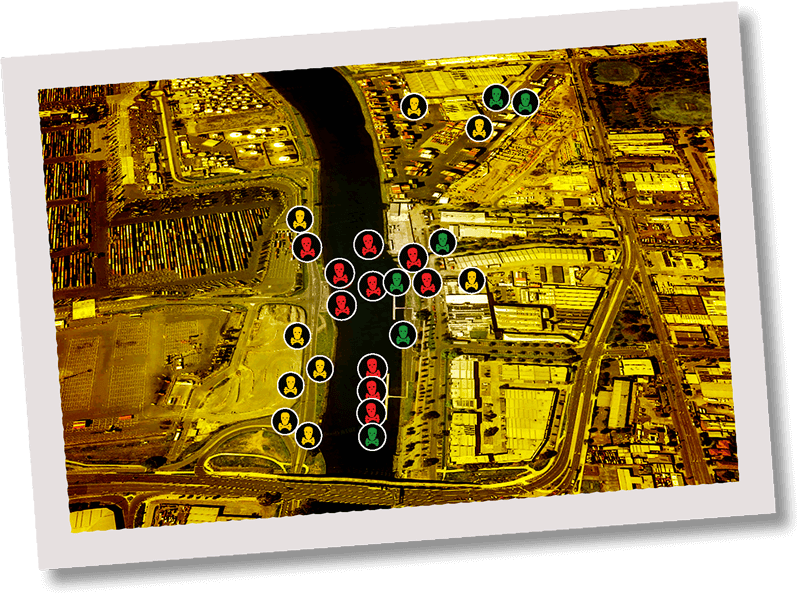 The project's own hygienists have told John Holland-CPB that inadequate testing of the area's soil has been carried out. The CFMEU has requested John Holland-CPB carry out more accurate and up-to-date testing.
We know that more than 80 additional tests have been carried out, and all but four came back with high readings.
In any case, this is just the tip of the iceberg in terms of testing that is required.
John Holland-CPB doesn't even appear to be answerable to government.
When the regulator, WorkSafe, called a high-level meeting to try and deal with the contaminated soil in a way that is safe for the community, John Holland-CPB simply failed to turn up.
"To us, that says they either don't care, or they have something to hide," says the CFMEU's head of health and safety, Dr Gerry Ayers. "And we would like to know what that is."
This is just one of many documents handed to the CFMEU which shows that John Holland-CPB are refusing to take the problem seriously.
What the Department of Health has to say about PFAS
PFAS does "not break down in the environment and can travel long distances in water and air currents".
In areas where PFAS firefighting foams have been used, "these chemicals have worked their way through the soil to contaminate surface and groundwater" and "adjoining land areas".
Because of its "toxicity, mobility, persistence and bioaccumulation", PFAS poses "potential concerns for the environment and for human health".
"It is important to understand how people living near contaminated areas may come into contact" with it, "so that exposure may be minimised".
"People living in or near an area that has been identified as having been contaminated … should take steps to limit their exposure" to it.
The exact health impacts of PFAS are still to be determined. But "if you think you have been exposed … please consult your general practitioner."
Tunnel Vision On Worker Safety
There's already been one tragic fatality on the West Gate Tunnel Project.
And with the continual lack of managerial oversight on basic OH&S principles, is it going to take another death before they bring the project up to standard?
Here are some of the issues that CFMEU members working on the project have come across
A worker lost a finger while loading an excavator unsupervised and in the dark
Utes used as shadow vehicles instead of TMAs
An AXU cable secured with frayed rope and a tied wire, with no exclusion zone around the rig
Inadequate fall protection
Uncapped steel rebars
Nightworks with inadequate lighting
Out-of-date testing for RCDs
Workers being physically bullied
A young Indigenous worker sexually harassed
The smoko shed used as a first aid room — and first aid supplies sometimes years out of date
Poor access for emergency vehicles at the ambulance pick-up point
We are also aware of John Holland-CPB making injured workers sign daily pre-starts while they are getting treatment in hospital to hide the fact that LTIs occurred on the project.
Is history repeating?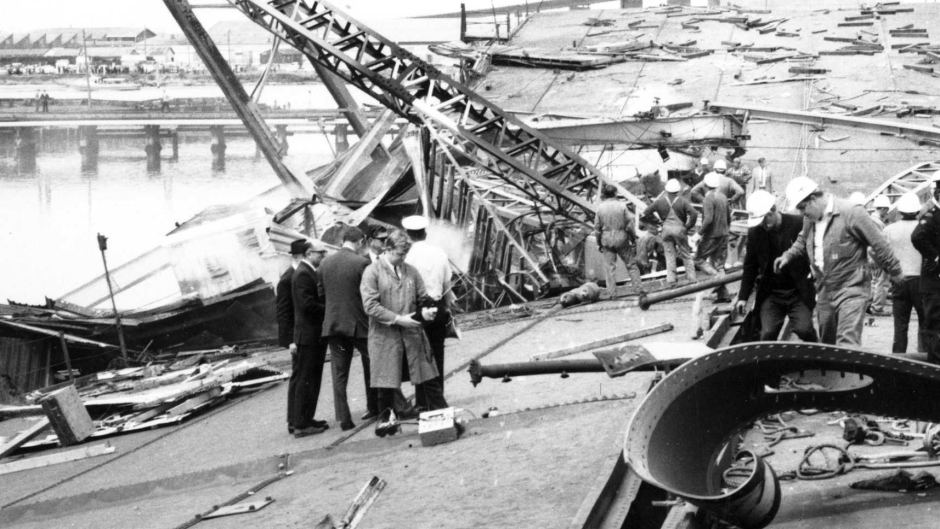 Nearly fifty years ago, John Holland told workers on the West Gate Bridge that it was safe to work on and would not collapse.
It did collapse, on October 15, 1970, killing 35 workers and injuring another 18.
Is history repeating itself with the West Gate Tunnel?
Unfortunately John Holland did not learn its lesson, and judge after judge has slammed the company for its cavalier attitude to workplace safety, which has resulted in one death after another.
The John Holland-CPB joint venture appears to have a flagrant disregard for basic Australian safety standards.
Workers and the public deserve better!
Authorised by J Setka CFMEU Victoria & Tasmania, Melbourne